By Rabishaw and Sarah Millstein – Sci-Tech Counselors
During staff training, the URJ 6 Points Sci-Tech staff had the opportunity to hear from Keshet, a Jewish organization focused on creating a more inclusive environment for members of the LGBTQIA+ community through (amongst many things) resources and education. Our conversation about LGBTQIA+ inclusion started with a discussion about seven core Jewish values and how they can be related to the LGBTQIA+ community. Most notably, the two values of Kavod (respect) and Al Tifrosh Min Hatzibur (Solidarity) were pointed out. To all of us here at Sci-Tech, the idea of Kavod hit very close to home, for Kavod is also one of Sci-Tech's six core values.
Here at 6 Points Sci-Tech, we instill in our campers the importance of all-around respect. Our campers learn that it is essential to our community that we show respect to others so that we can be inclusive to all people. This way, every person feels they can be themselves without fear of judgment, and we feel this is a concept we actively see in the Sci-Tech community. As a returning counselor, I know this to be true. Here at Sci-Tech, I felt so respected last year, I felt comfortable enough to come out as nonbinary. Here at camp, I felt like I could be myself without fear of judgment from my peers. Sci-Tech is a space where everybody can feel brave enough to be who they truly are without fear of losing the respect they deserve. The environment we nurture here is one of respect, and is why I love this camp so much.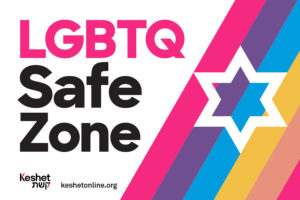 Another value that Keshet brought to us is Al Tifrosh Min Hatzibur, or solidarity.  Essentially, this means that we should not separate ourselves from others just because we feel different and that we should do our best as a community to be inclusive of people who don't necessarily fit the norm. Though this isn't directly one of our central values here at Sci-Tech, we feel it is closely related to our value of Kesher, or connection. Instead of letting people isolate themselves, we form relationships and bring people together, thus creating a more inclusive environment. At Sci-Tech, we try to make every camper and staff member feel as connected to our community as possible. One example of this was last summer when one of the campers helped us create "Friday-Pride-Day" which allowed everyone at Sci-Tech to show their pride either as a member or ally of the LGBTQIA+ community.  The whole campus was covered in rainbows as we showed our support and solidarity. 
Even though Sci-Tech already seems like an inclusive and accepting community, that does not mean that we cannot still learn from our session with Keshet. For many of our first-year staff, this was the first time anyone had ever sat them down to talk about the LGBTQIA+ world. Many of our international staff walked away with a new understanding of the terminology that can be associated with one's sexuality. Our entire staff walked away with a deeper understanding of the importance a person's pronouns hold, and with a mission to make an even better effort to always ask a person for their pronouns rather than just assuming, for as we also learned; there is no such thing as being able to look at a person and assume how they identify. The values brought up during our session with Keshet are so vital to us here at Sci-Tech. We had these discussions as staff to ensure that every single one of us can make connections with our campers as allies and make sure they feel they are a valued member of this community. Hopefully, with the guidance of Keshet, we can continue to incorporate these Jewish values alongside our own to keep this camp a safe and accepting community for all.